Quote:
---
Originally Posted by fixer79
They
could
have. Sadly, I guess it's too late now for any SoK sets to be planned. It would take close to a year to reach the shelves, by which time the videogame will be forgotten by the majority of the public.
They should've been in the summer 2009 line to be released along with the game. Missed opportunity. :(
LEGO did it right for favourite son Star Wars though.
Along with the release of 'The Force Unleashed' video game, LEGO released a set based on a vehicle from the game, the Rogue Shadow.
---
Not only that, but they've released a couple other vehicles from the
Star Wars
Expanded Universe:
(note the
TIE/D
in the upper right)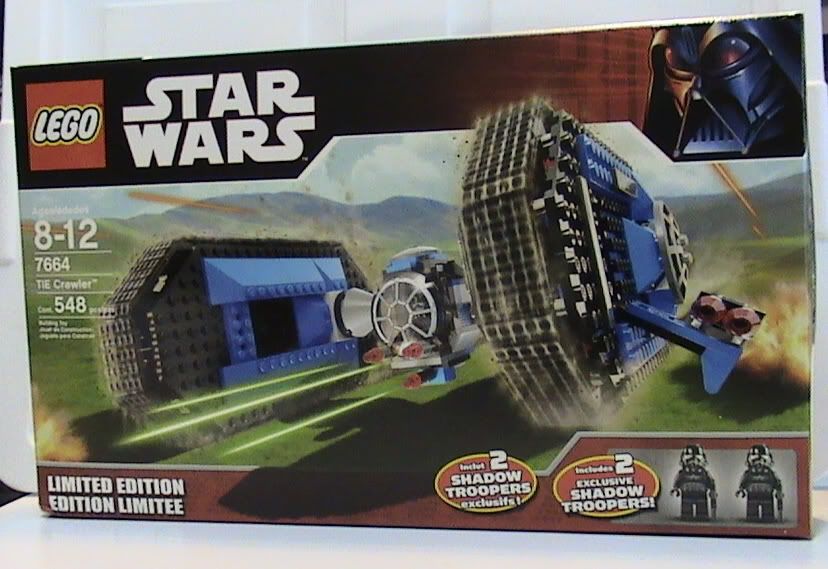 Of course,
Star Wars
is more popular than Indy (and immensely more so when it comes to licensing / merchandise), but if they can do multiple vehicles like this that appear only in comics and games and so on, not to mention a huge number of sets based on the
Clone Wars
TV series, I'd like to think that someday they might do at least one or two sets based on the
Young Indy
TV series - perhaps as promos or vendor exclusives, if nothing else. I'm not exactly holding my breath, but never say never...
__________________________________
As for set candidates for next year that I think are both likely and desirable, I have a few ideas:
- Lao Che Air Freight's Ford Trimotor. Airplanes in general are a longstanding favorite, oft-recurring subject of many a LEGO set, and the Indiana Jones mythos is fairly
teeming
with planes, of course, which LEGO's been busy recreating since the license began - less than two years into the theme, they've got five planes already (Jock's plane, the Flying Wing, the biplane from the zeppelin, a Messerschmitt fighter, and a Panagra Airways DC-3). The Trimotor from
Indiana Jones and the Temple of Doom
is a beautiful plane, one of the most prominent planes in any of the movies, of a design that should easily lend itself to recreating in LEGO, and featured in a memorable sequence with a fair amount of action that should provide for a nice number of action features and play value in a set. It's a natural. I think this could be done in the same size / price range as Fight on the Flying Wing and Peril in Peru, with minifigs of Indy, Willie, Shorty and the two pilots. The main question would be whether it has Indy and Willie wearing the clothes in which they board the plane, or the ones in which they jump out of it. I'd vote for the latter, since that would give us a third major outfit for Willie (Indy's nightclub attire), but that could also be addressed with the following...
- the elephant trek. LEGO already has elephant figure elements; they could simply produce them again in an easily-done set. This would have Indy, Willie, Shorty, probably Sajnu, the three elephants, and perhaps some additional elements with which to build a camp scene, foliage, perhaps the grotesque statue, etc.
- the circus train. How large and expensive is LEGO willing to go with sets from a license that's not
Star Wars
? It's uncertain, but doing a train -
any
train - would be one great way to hedge their bets, since it would have crossover appeal to LEGO Trains fans. The main challenge here might be coming up with LEGO versions of the train's cars with enough room inside for reasonable restagings of the action on the train's interiors, but I think it could be done, and anyway just recreating the exterior would be delightful enough. As long as it accurately recreates the signage on the exterior of the reptile car and so forth, I'll be happy.