Quickly I'll mention other gear. The Shirt and Pants are somewhat unique. What sets the shirt apart are the shoulder epaulettes and pleats running up the front of the shirt. It should fall somewhere between the colors of stone and tan.
Noel Howard made the originals and also offered shirts and pants but recently stopped.
This leaves Wested as your best bet if you really want an accurate shirt or pair of pants but be prepared to spend. Again they are a U.K. company that will accomodate you measurements if you like.
You can also pick up an Indy Magnoli Shirt and Pants, which are made with quality, again to your specifications but a bit costly.
The What Price Glory (WPG) shirt is also worth a look. It seems a bit bloated and large, but from what I hear is passable when tucked in.
If you don't mind something close enough, you can try a Cabela's Safari Shirt.
WPG Repro Bag: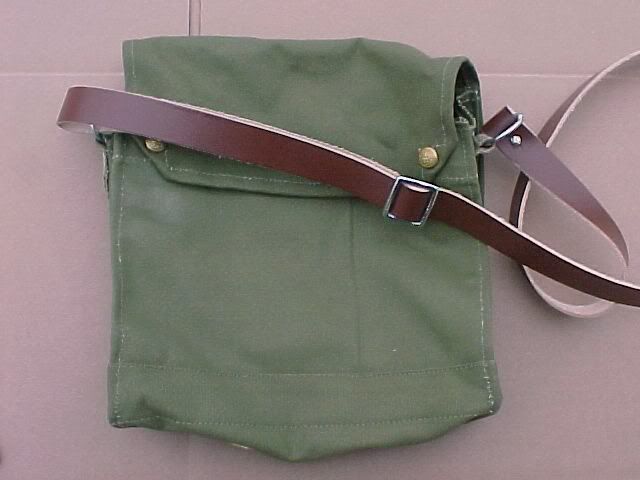 WPG Also offers real Gas Mask Bags just like Indy's. The only differance is the original strap. To get a leather strap you can try Magnoli or Todd's. Magnoli, WPG, and Todd, all also offer repro bags, using the same pattern as the original, w/ slightly differant insides to accomodate your Indy gear. These bags typically include a leather strap and buckle with them. If you want something cheaper Ebay seller Costumebase is good too. He is from Singapore but has fast shipping. I have this bag myself and it is nice, although I reccomend replacing the strap which is faux leather.
http://www.indygear.com/gear/shirt.shtml
http://www.indygear.com/gear/bag.shtml
http://www.wested.com/
http://www.magnoliclothiers.com/
http://www.whatpriceglory.com/mkviibag.html
http://www.toddscostumes.com/
http://www.cabelas.com/cabelas/en/co...cm_ite=cabelas
http://stores.ebay.com/costumebases_...638.m118.l1247
Lucasfilm is cracking down on independent prop replicators and so the only place left seems to be ebay or some independent projects that pop up on other Indy forums.
http://www.ebay.com/
(Your new best friend)
The Gobler Idol:
First with Raiders of the Lost Ark, a popular piece is the Golden Idol. Unfortunately it isn't as easy as just going to Marrakesh to buy one. The best Idols to be produced were the moving eyes version which was very limited, the Gobler, MK, and Magnoli's none of which are currently being made anymore. So the only place to find one of these Gold plated idols is on ebay and be prepared to spend big if your lucky enough to find one. The next option is a painted idol which exist in a number of forms, again all on ebay. You can readily find 2-3 sellers on ebay offering these kinds of idols at any given time.
This idol :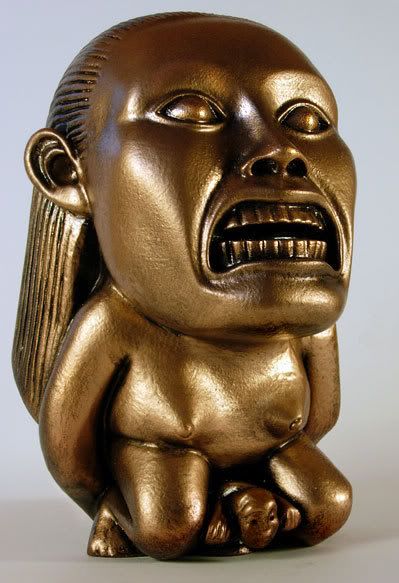 This idol is a pretty good cast but has a seem running up the back up the head from being casted, and has other small deformities. It is Hydrastone which is sort of like plaster. This keeps it light, especialy compared to a Gold plated idol. The paint is Black, with some sort of Bronze, then Gold coat to give it an antiqued illusion. Problem is they got cheap with the gold paint and some areas are very dark or jusr outright black which detracts from the idol itself. Most notabley under the chin. The corners of the mouth are also incorrect. Still with free shipping this may be a good idol for someone looking for a close enough piece.
Geneva Roth is the other seller who comes to mind: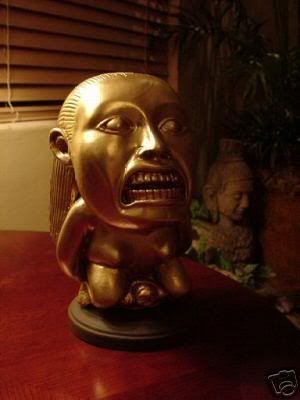 His idol has a better gold looking illusion to it and can even be found cheaper then the above, for the most part. This is going to be most peoples best bet. The seller is also very friendly and honest. It too suffers from the seem and minor imperfections however.
Other idols of this same cast with differant paint styles show up regularly from various sellers, and you can also pick up an un-finished Idol, to sand and paint or Gold plate/leaf on your own. If you want something Gold Plated, doing it yourself is your best chance of making it happen quickly.
Acme Headpiece:
The Headpiece to the Staff of Ra. This is a tricky one. If you want a good headpiece, you'll find it isn't actually a worthless bronze medallion after all. Your going to need to shell out around $100 for a truely decent one from Acme Artifacts. I think they still have some that have real gold plating and correct writing on both sides. Its a greatly detailed piece.
http://acmeartifacts.com/cart/index....322ef7c0eb5fdc
Other good Headpieces were replicated by Indy Magnoli and Redfour and show up from time to time on eBay.
Costumebase: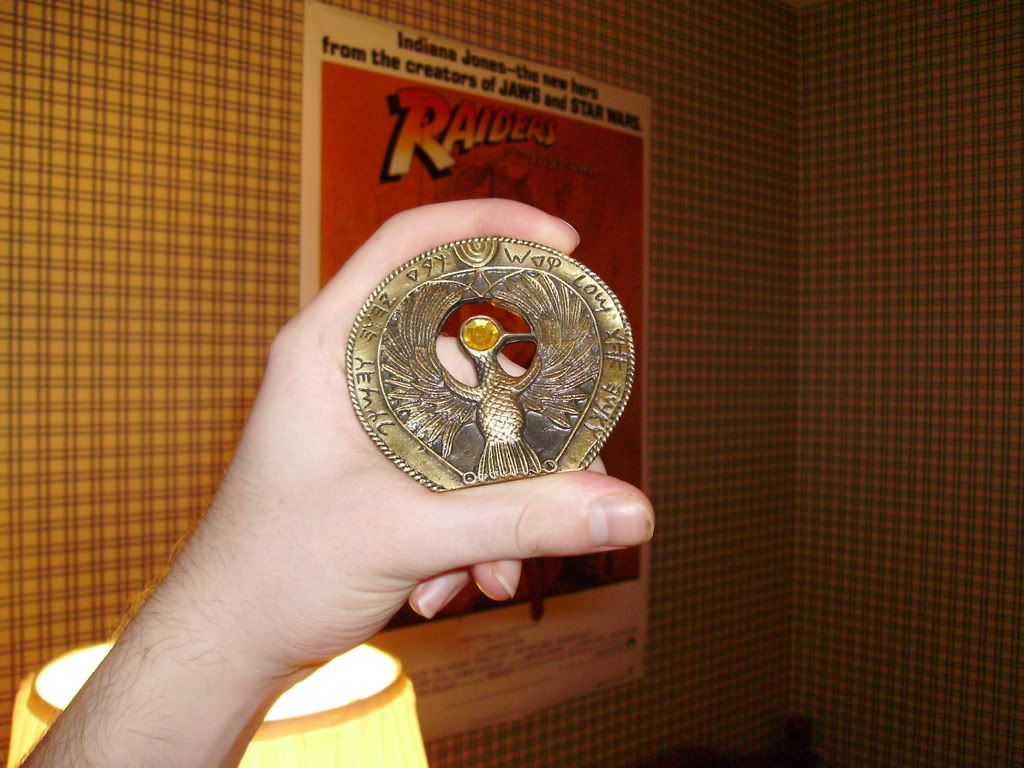 The next best alternative is Costumebase's standard Headpiece. The gold plated one is a bit sloppy, but the regular edition is very nice and has a great deal of detail. The price is fantastic, although it doesn't have the shorter text writing on the opposite side, and the Crystal is just a mirrored back gem on each side. Costumebase is an ebay seller and from Singapore, but has great communication and fast shipping times. They also make Indy's Bag, and Holster set, which I'll talk about, later.
Stay clear Of Reelart's headpieces here, they are very poor re-casts with sloppy paint applications. The same goes for the Reelart Grail and Idol, etc... however the Translucent Amber Sankara Stones they offer are actually well made and nice pieces.
Reelart Sankara Stone:
On the topic of Sankara Stones, get them from Reelart or try to find someone in the community, on a forum who is doing a run. These are hard to come by, But very easy to make on your own. Get some sculpty and brown and white paint, then some screenshots and go to work. Give yourself some credit, everyone can be artistic if they apply themselves.
Another easy addition to your collection could be the Antidote from Temple of Doom. A small container, which should have gems or crystals on the cap, and be filled with Blue Liquid. This is something else easy to do on your own, but if your looking for a nice one, check out Jedi Spirit on ebay. You can pick up not only the antidote, But the Lao Che Diamond and Indy's School I.D. all in one lot at a fair price. The diamond isn't perfect but for the price it's great. Reelart's diamond and vile are very inaccurate.
Jedi Spirit also sells Rubbings of the grail tablet which are actually rubbed, not printed and come pre-folded. From time to time he also offers ToD Sanskrits, and Brown Paper Wrappers for your Grail Diary. A friendly seller, with good communication.
IndyJ Diary: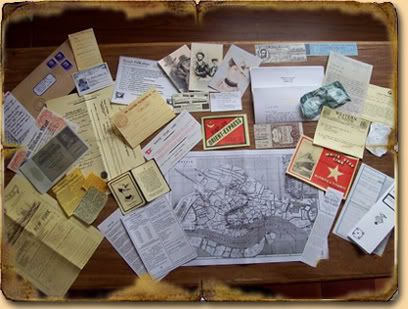 Speaking of Grail Diaries... You'll see a few show up on ebay weekly. The IndyJ diary is the nicest one which is readily available showing up once or twice a week at a price of around $200-$400. I just picked one up and am satisfied with the Book itself, the band, the printing of the book itself, and the ton of inserts. It's really very nice.
Philbirt's Diary: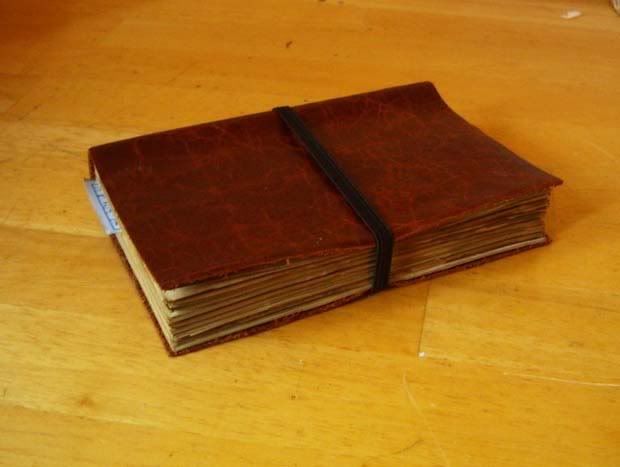 If you want something a bit cheaper, check out the Philbirt Diary. It's still got a genuine leather cover but off in color, and a printed book w/ elastic band and a few inserts. However it is smaller then the real Diary and thus some print is sized down and hard to read. Some is cut off completely and the Diary is not always ledgible. It's nice but it isn't going to blow you away. Don't spend more then $200 on this one.
Alot of Tannis Props Diaries seem to show up on ebay lately too. I believe they are all hand written but the quality doesn't look fantastic, in fact some I've seen are very inaccurate for nearly $300-$400. Magnoli also made Diaries which may show up if your lucky.
http://www.indyquest.nl/
You could always make your own diary as well. A number of resources exist online. Magnoli still sells Blank Diaries for you to get started and I have provided links to the Diary and Inserts. If you really want to go all out, once in a while a truely accurate hand written diary shows up on ebay, but Ive seen them go for over $1,000.00 so don't be surprised if you have trouble acquiring one.