The Raven
(
http://raven.theraider.net/index.php
)
-
Archaeology
(
http://raven.theraider.net/forumdisplay.php?f=12
)
| | |
| --- | --- |
| Le Saboteur | 06-17-2016 02:45 AM |
---
The Explorers Club

This would have been high-larious. Too bad it never toured.
That's not the outfit we're interested in at the moment, though. We are, however, interested in the eponymous organization of the same name in New York City. Since we're seemingly lacking a thread dedicated to the club (or one for events), it's about time we had one.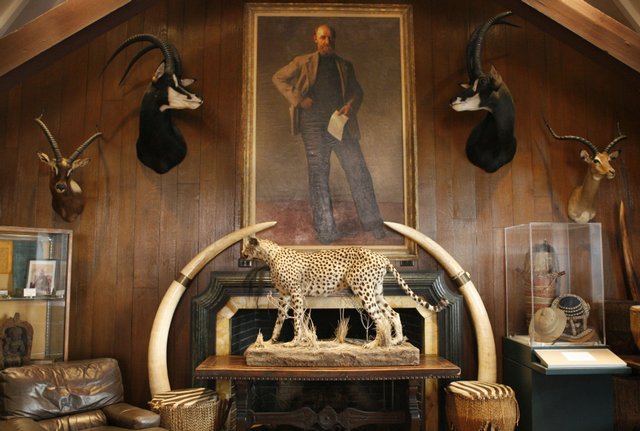 Normally closed to plebeians and the morally questionable, the fine folks over at
Atlas Obscura
have managed to pry open the doors at E. 70th (between Madison & Park) to get you an inside look at the club and it's holdings!
Starting at 11 am sharp on the 28th of June, the group is promising an in depth tour of the club's artifacts, maps, trophies, and its greatest accomplishments and tragedies. If you're in the vicinity of the Big Apple, this sounds like a fun tour. Get tickets
here
.
DETAILS:
Tuesday, June 28th 11am - 12:30pm
The tour will begin promptly at 11am; please arrive on time.
Tickets: $26
The Explorers Club is located at 46 E. 70th Street between Park and Madison Avenues. Our tour will begin in the downstairs lobby.
| | |
| --- | --- |
| Le Saboteur | 10-14-2017 11:18 PM |
---
Even though you can find all the pertinent details on
their website
, Men's Journal has put together a good article on how one can seek membership in The Explorers Club!
Dr. Jones was turned away for being a bum; will you make the cut?!
Though, if Jeff Bezos is a member (honorary or otherwise) maybe it's time Dr. Jones' application be reconsidered.
Quote:
---
Originally Posted by Sam Donnenberg
Remember this isn't about how many passport stamps you have. The website clearly states, "Travel without scientific purpose or objective, big game hunting, personal photography or similar pursuits do not represent sufficient qualifications." Don't turn in a round up of your all-time favorite vacations. You want to show how you've given back to the scientific community as a result of your exploration of the world (or worlds beyond this one). But don't be discouraged if your explorations haven't exactly gone down in history. The membership committee wants to see that you scratched an exploratory itch, not that you necessarily uncovered a groundbreaking new revelation about the world.
---
Quote:
---
Originally Posted by Sam Donnenberg
"It's a fine line often between adventurism and exploration," said Marc Bryan-Brown, explorer of the Siberian Arctic and the club's Vice President for Membership, "All explorers are adventurers, but not all adventurers are explorers. You can climb Everest, or scuba dive with sharks, or hang out in New Guinea with a bunch of tribespeople and it's a lot of fun, but in and of itself that is not exploration."
---
Full Article: How to Become a Member of The Explorers Club
Don't worry about where you're domiciled though! The Club has chapters across the globe!
If you're in or around Northern California, the chapter has their own site where you can check out local events
here
; otherwise, stop by
here
for Stateside chapters and
here
for international chapters.
All times are GMT -5. The time now is

12:25 PM

.
Powered by vBulletin Version 3.5.0
Copyright ©2000 - 2018, Jelsoft Enterprises Ltd.