~~~ Strange but Beautiful Images ~~~
You have to love an image of Hell where the people aren't suffering! Instead, they seem to be enjoying a rapturous experience, and the Devil is depicted as a being of light and beauty. The Church hates those kind of depictions. I, however, find them strangely beautiful. Of course I was always just a bit of a heretic, in my own way. I used to use this one, for my desktop background:
Speaking of strange but beautiful images, here is something the from the Lord of the Rings movies that never made it into the finished product. It is Sauron in his pre-fallen form as the angelic Annatar, and offers a glimpse of a side of the Dark Lord's nature that perhaps only his closest allies got to see. And so, here is Sauron looking as you probably never saw him before. Light, but dark: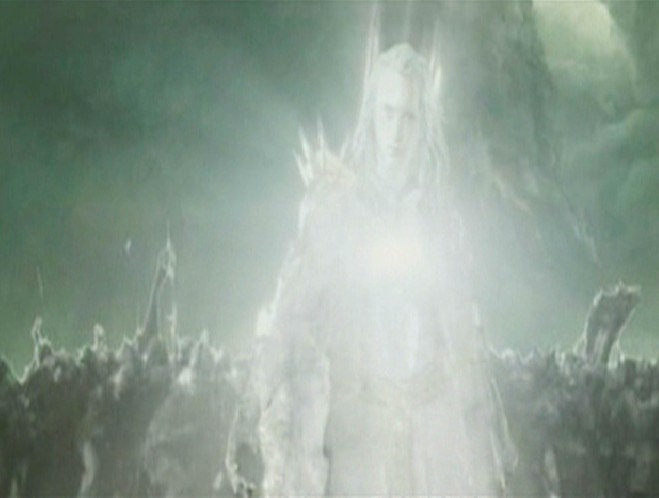 And here is the lovely Tilda Swinton as Gabriel, in Constantine. There is just something about her that I find *sexy*. Even in Narnia, as the White Witch, I thought she was just amazing! Perhaps it's because not every woman could play a complete androgyne like Gabriel yet still look really good while doing so.
That says something about someone's beauty, and about their acting ability!
Plus, something about her performance as Gabriel reminded me of a bit more sassy version of Galadriel from Lord of the Rings. Since I loved Cate Blanchett in that role (she is always good in roles like that), it was only natural that I'd also like Tilda Swinton. Here is my favorite picture of Galadriel, and you know there is more than a passing similarity between her and Gabriel. Here's Cate:
Now Here's Tilda Swinton's White Witch compared to Galadriel. They could be identical sisters, honest to goodness! Even these scenes are almost way too similar to be believed. I never noticed this until right now, but it's amazing! :D
And, we're ending this initial installment of Strange but Beautiful, with this very fitting image. Honestly, I think we've saved the best for the last here...