Quote:
---
Originally Posted by foreverwingnut
Apparently Stoo has made a personal crusade of finding my comments wherever they may be so he can smear me until I get angry enough to leave this website just because he hates Short Round and I don't. He's so blind with rage over nonsense that he, once again, doesn't give enough attention to my words before he clicks the "Reply" button. I simply posted this thread for a friendly food-for-thought and no one- other than Stoo- can possibly find the slightest hint of contempt or aver in my opening comment.
---
Woah, Wingnut!:eek:
1) This is only the 3rd thread where I've spoken to you so there is no "personal crusade" to "smear you". I meant to reply to this thread on the very day you created it (before our Short Round debate) but didn't get around to doing so.
2) In no way am I trying to make you quit The Raven! That is a silly notion. I would NEVER wish that upon someone who wants to talk about things related to Indiana Jones.
3) I don't hate Short Round and even
made that clear
in the other thread.
4) I am being friendly, dude. I wrote, "with all due respect".:cool:
Quote:
---
Originally Posted by foreverwingnut
I never said that Malta, itself, was "identical" to the Raiders island, I said that the rocky terrain was identical and I can present photos to prove it. Nor did I suggest that Malta and the Ark Island were "one-in-the-same", I simply suggested it might be an inspiration.
---
Well, I've been going to the south of Italy & Sicily every summer for over 10 years and have been to Egypt and...
MALTA
. In a few days, it will be exactly 2 years since
my visit to Malta
(28-30 May, 2010). I wanted to go to the Hagar Qim temple but my girlfriend grew tired of 'Indiana Jonesing' (as she put it).:down:
From my firsthand experience of seeing Malta's coast and its interior, the terrain is NOT "identical" to the Ark Island. It isn't void of vegetation as we see the island in "Raiders". Malta has dry grass, trees, shrubs and plenty of cactus plants. Also, the Maltese islands are mostly flat with low-lying, rolling hils. By contrast, the Ark Island is depicted with sharp, mountainous terrain. Malta does have an area with high, coastal cliffs but the main part of it's major city, Valetta, has sat on top of them for centuries. The cliffs are heavily fortified and not barren.
Quote:
---
Originally Posted by foreverwingnut
I also never said that Malta was on a "direct route" from Egypt to Europe. I said it was "just off the route". Since the novel states the submarine was rerouted, then I thought this might be a reasonable assumption, especially since the Maltese Islands are at the very edge of the Mediterrean near major seaports of Italy.
---
:confused: I never mentioned anything about a "direct route". Please, Wingnut, don't create a conflict where there is none!:)
6 months ago, the location of the island was discussed in this thread:
Greeks Find Ark of the Covenant
Within that conversation, I showed that the Ark Island's closest, real-world locale is the Greek island of
Anafi
, in the Mediterranean/southern part of the Agean Sea and relatively close to the coast of Turkey. Far away from Malta...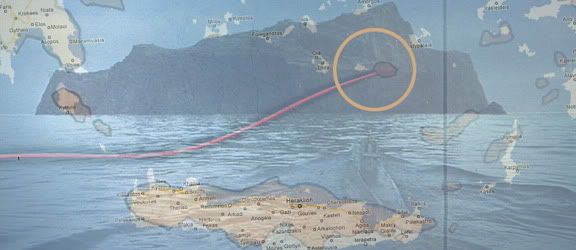 Quote:
---
Originally Posted by foreverwingnut
And I did NOT write the novel, so why is Stoo making a stink like he's holding me responsible for the fact that the Ark Island was a jungle island? I never even said it would have been a good idea for a jungle island because I do agree with him on this single point- there are no jungle islands in the Mediterranean, which was my whole reason for this thread in the first place. Stoo has a serious attitude problem and probably should look into therapy.
---
How are you getting the impression that I'm holding you responsible for the novel's jungle island?:confused: I didn't realize that offering a theory about the change was equal to "making a stink", etc.
(The attitude & therapy comments can be easily turned around towards you...but I won't do that.:cool:)