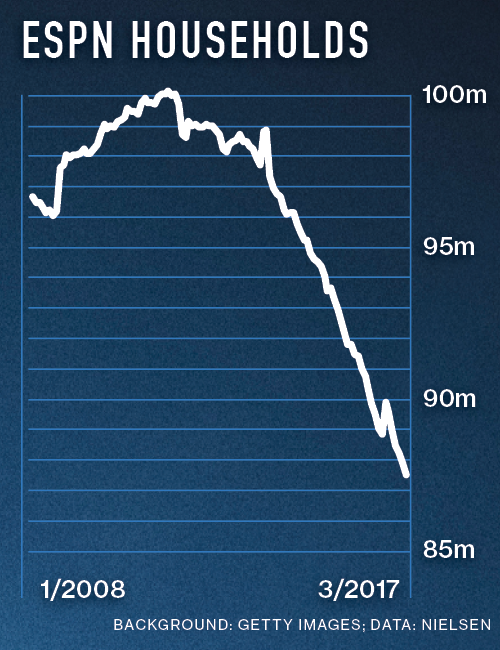 Quote:
A typical cable (or satellite) bundle costs about $100 per household. In simplified form, when a customer sends in a monthly payment, the cable company sends a cut to each channel included in this bundle. Some channels get paid more than others, and ESPN gets the most. Carriers pay an average of $7.21 per month for every customer who gets ESPN as part of a bundle, according to Kagan. Fox News, by comparison, gets $1.41; Bravo, 30¢.

With almost 90 million homes still getting ESPN, that adds up to $7.8 billion per year. Sister channel ESPN2 chips in an additional billion, and that's all before ad revenue (roughly $2.6 billion a year, according to Kagan) and revenue from the print magazine and website, which is the most trafficked in sports. Last year, Disney's cable networks brought in $16.6 billion in revenue and $6.7 billion in operating profit—43 percent of Disney's total and more than its theme parks and movie studios combined.
In college 20 years ago, roommates and I spent $3/month each for cable, about right. Never had it or satellite before or since. Today pay TV consists of Netflix, HBO Now, and Amazon Prime accounts shared with family. This year as usual we hosted the Super Bowl, because I have the biggest antenna the HOA allows. I like sports, playing and attending, but there are only so many ways you can dissect a box score.