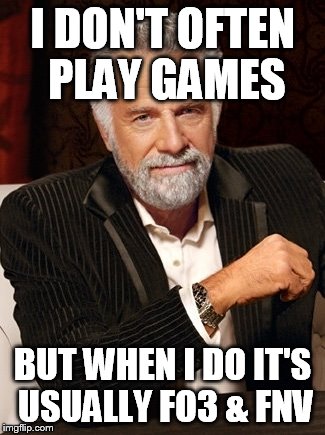 I breathed life into those old dogs when I found 'A Tale of Two Wastelands'.
TTW is a pretty extensive mod that unites the Capital Wasteland of
Fallout 3
with
New Vegas
under the New Vegas engine.
You're born in Vault 101, venture out into the Wasteland, and at any time can fight your way into DC to find the train that will carry you to New Vegas.
In TTW lore 12 years pass after you begin your journey and awake as the courier in Doc Mitchell's house in Goodsprings.
You need a few other mods to maintain playability considering you character has two wastelands to explore, such as increasing the level limit to 100.
On searching for a better way to move between wastelands I found a mod that adds an animated Vertibird with a detailed interior to function as both personal transport and player home.
Two navigation screens in the cockpit allow for travel to any previously discovered location in either wasteland.
I read that some players didn't like fast travelling as it ruined the experience, and I can see that now. There's more satisfaction in first hearing, and then seeing, your personal Vertibird flying in after being hailed, climbing aboard to dump your loot, deal with your followers, take a sleep and plan your next move.