Deformed Skull From Dark Ages Unearthed In France
LiveScience | By Tia Ghose Posted: 11/17/2013 12:12 pm EST

| Updated: 11/18/2013 10:29 am EST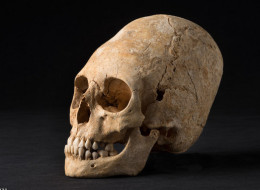 Editor's Note: This story was updated at 10:15 a.m. on Nov. 18
The skeleton of an ancient aristocratic woman whose head was warped into a deformed, pointy shape has been unearthed in a necropolis in France.
The necropolis, found in the Alsace region of France, contains 38 tombs that span more than 4,000 years, from the Stone Age to the Dark Ages.
Rich valley
The Obernai region where the remains were found contains a river and rich, fertile soil, which has attracted people for thousands of years, Philippe Lefranc, an archaeologist who excavated the Stone Age burials, wrote in an email.
Archaeologists first found the tombs in 2011 while doing a preliminary excavation of the area prior to the start of a big industrial building project. This year, Lefranc and his colleagues went back to do a more in-depth excavation.
They found that the tombs were well preserved by the limestone rock in which they were buried. One of the burials contained 20 tombs of men, women and children. [See Images of the Tombs & Deformed Skull]
"The corpses are lying on their backs, with outstretched legs and heads turned westwards," Lefranc said.
The tombs, which date to between 4900 B.C. and 4750 B.C., also contained a few stone vases and tools, along with ornaments such as mother-of-pearl elbow bracelets and collars. The small group may have been a family from a Neolithic farming and animal-herding culture that lived in long houses and buried their dead in cemeteries, Lefranc said.
more
HERE