I'm new to the forum so I'm happy to share my first project. With a few cons coming up, I decided it was finally time to really upgrade my Indy costume. One of the main things I was missing was a good holster and a con-friendly con. I picked up a Raiders style holster from Todd's Costumes and was going to just make a resin cast of my Denix Webley Mk IV. Not accurate but close enough. But reading Drones33's post on his Indy S&W, I figured I'd try something more.
I had an old HFC .357 spring airsoft lying around collecting dust, so decided to use that as the base:
[IMG]http://
[/IMG]
Clearly, it was going to need a LOT of work. First thing I did was take the grips off and gut it. I want to make sure it is con friendly so I glued the hammer and trigger in place, then weighted the grips. Since they were plastic, the wrong shape and too big, I had to sand them down and reshape them a bit. A little bit of work with a heat gun helped, and while they are not perfect they are close enough.
[IMG]
[/IMG]
I used a dowel to serve as a base for a new barrel made from PVC, then gave everything a sanding to get rid of logos and prep for a base coat of primer:
[IMG]http://
[/IMG]
With the barrel set and some more sanding, it was time to figure out the sight. I was really torn between a blade sight or a ramp sight. I like the look of the blade sight but was going off of the reference pic of the Bapty. In the end, I decided to go with the blade sight since I preferred the look of it. However, knowing that it would be going in an out of the holster, I needed to make it solid. I took part of upper part of the cut off barrel, and drilled a tiny hole through it. I cut the blade sight out of styrene, with a little peg to go into the hole. One I glued the sight to the base, I attached it to the barrel. It's pretty solid and I like the look.
[IMG]
[/IMG]
[IMG]
[/IMG]
Now, with the barrel and sight done, it was time to return to the grips. I started layering paint and to give the base for a wood grain effect, followed by some drybrushing and washes to soften it up:
[IMG]
[/IMG]
[IMG]
After looking at it, I really felt that it needed the barrel lug in front of the extraction rod. I originally wasn't going to worry about it, but ended up making one from epoxy putty. Once was on, the grips were taped off and a few coats of paint were applied. Once dry, I used graphite powder on the trigger and hammer to make it more of a grey (doesn't show up as well in the photos) then used a few layers of Future to seal it for a bit of shine and to protect it.
[IMG]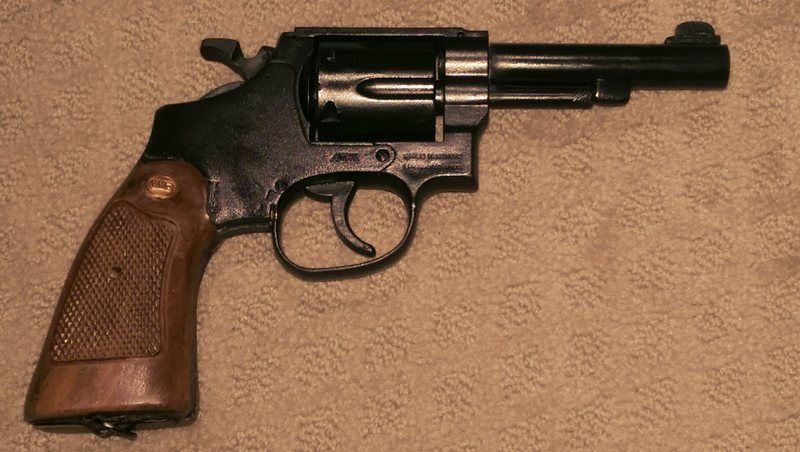 [/IMG]
[IMG]http://
[/IMG]
Finally, a matte varnish was put over the grips and I added a lanyard ring to the bottom and it was done! (Well, still may get some weathering, but for the most part it's done.)
[IMG]
[/IMG]
Feedback and questions always welcome! Thanks!!