Hi Folks! I'm proud to announce that the Adventurer's Summit Mainz 2016 presented by the German Indiana Jones Fan Forum happens from 2.-4.09.16 in Mainz, the capital of Rhineland-Palatinate in Southwest Germany.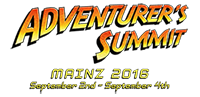 This year we have again a Summit with a special bill and many Indyfans from Europe. On Saturday 3.9.16 at 18PM starts the Private Cinema Night in the Capitol Filmtheater Mainz with the Fanfilm Revenge of Kali and all 4 mainmovies of our Fedora- and Whiphero. This Private Cinema Night is a closed event for friends. The Cinema is build in 1933 an has a nice gallery and a brilliant natural sound so it's perfect for an adventurenight. The German Voice of Harrison Ford - Wolfgang Pampel speaks the introduction. Furthermore there is a little Indy exibition.
If you are interested feel free to contact me via Private Message to receive more details.
If you have Indyfriends in Germany tell them about this unique weekend.
I can add your name on the guestlist if you are ready.
Last but not least the Private Cinema Night ends at 4:30 AM on 4.09.16 and worked with voluntary donation. All mainmovies could be played with english subtitle and with german language.
PS: Snacks and drinks of good value waiting for you.
Sincerely FloW