IndyCast: Episode 266
is here!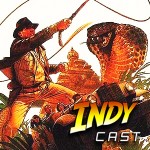 This episode Official IndyCast correspondent Mitch Hallock talks Solo as well as checking out some of the Indy Easter eggs in the film, find out how you can have a masterclass with Sallah himself, you have a chance to win a limited Mara pin from the Indiana Jones ride, Ron is back with more Indy trivia and Chris A sits down with the author of Watching Skies: Star Wars, Spielberg and Us in IJ in the UK!
You can listen to the episode
here
!