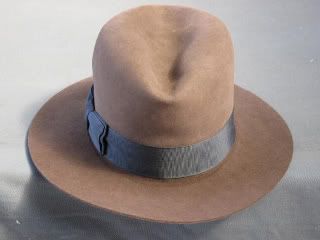 Here is my Lee Keepler Fedora in "Raiders" style. It is a beaver-rabbit blend with a 5 1/2" crown with a 3" front brim with 2 1/2" sides and 2 3/4" in the back. Though fedoras are not my expertise, in my humble opinion, it is a nice, soft fedora. Really like the color of the fedora. The pictures were taken outdoors with natural lighting.
Had the fortunate opportunity to meet Mr. Keepler in person last weekend. Overall great guy with some very intresting stories.
By the way, don't forget about Mr. Keepler when it comes to purchasing "Indiana Jones" gear. He has great products at reasonable prices. He has never stopped producing gear.
Remember, he is one of the "forefathers" when it comes to "Indiana Jones" gear.
Yes, he is aware of the fact that members have stated it is difficult to contact him and receiving their ordered products in a timely manner. But, if he has the item in stock, he will ship the products immediately. My fedora in my size was in stock, ordered it on a Tuesday, received it on the following Satruday.
My suggestions concerning contacting him. Contact him by way of his mobile phone
NOT
through his email address. And contact him early in the week for he is usually on the road late in the week and on the weekends for gun shows. And it is best to call him either early in the morning or late afternoon-early evening. His middays are occupied with a prior commitment.
His mobile number is 1 (619) 647-6744. Give him a call. He is a friendly person who always enjoys a good conversation.